What date marks Ireland's independence?
Ronan McCreevy remarked in his recent Irish Times article that it 'is a peculiarity of Irish life that an independence sought for so long and at such cost is not celebrated.'
A History Ireland article written by Dennis Kennedy in 2018 is also worth revisiting in 2019, a year with numerous commemorations dates. January 2019 was the centenary of both the foundation of Dáil Éireann and on the same day, 21 January, the start of the War of Independence. On 18th April 1949 Ireland officially became a Republic, 70 years ago this year.
In his speech marking the 70th anniversary of the Republic, An Taoiseach, Leo Varadkar remarked that personally he had '…an open mind about how the anniversary of Ireland becoming a Republic should be commemorated each year.  Perhaps it is better to do so on Easter Monday, alongside remembering the events of 1916.  Perhaps it is best to do so through academic debates, discussions and exhibitions, like we have today.  Perhaps it is only the significant anniversaries that should be commemorated, such as the 75th anniversary in 2024.  However I think it is important that is remembered in some way and that people are aware of the history of our country and the different stepping stones on the way to freedom.'
Would combining commemoration of 1916 and 1949 on Easter Monday every year work, given that Easter Monday is so well known as the day the Rising started, or would it further have the effect of associating the Rising with the real start of independence?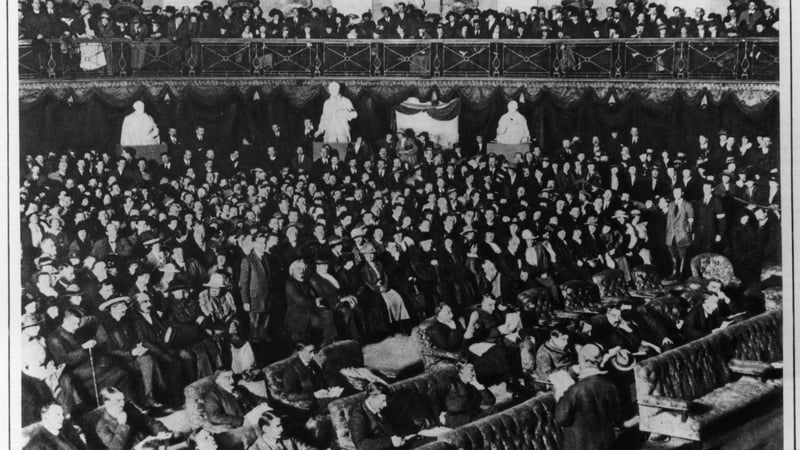 The inaugural meeting of the first Dáil took place in the Round Room at Dublin's Mansion House in January 1919
The Seanad last year voted to recognise 21st January as Ireland's day of Independence, a day which would be commemorated but which would not be a public holiday. Senator Keith Swanick, who proposed the 'Declaration of Independence Day Bill 2017′, recommended that '21 January will be known as Declaration of Independence Day, and that it will be celebrated annually, irrespective of the day on which it falls. This is an important aspect of the Bill because if we are to give the recognition that these events rightly deserve, we need there to be a consistent date in the calendar. It would be up to individuals, organisations, State bodies, community groups, or schools to commemorate the Bill in the manner best suited to their individual circumstances.'
The Bill is currently at the Second Stage in the Dáil.
Now that both dates have passed (the centenary of first sitting of the Dáil and the 70th anniversary of the Republic) without either becoming recognised as the official day of Independence, could some of the highly significant commemoration dates still to come, such as the signing of the Anglo-Irish Treaty on 6th December 1921 or the symbolic transfer of power in Dublin Castle on 16th January 1922 come to more prominence?