August 2020
Since last month even more cultural institutions in Ireland are re-opening.
On the Decade of Centenaries *website* a new 'Local Authorities' tab has been added which will allow you to find the 2020 plans for your own local authority. The list will be continually updated as Covid-19 restrictions are amended and local areas adapt their plans.
For the foreseeable future due to continuing social distancing requirements the way we engage with our physical heritage and culture will be different – visitor numbers will be controlled – queuing will be required – you might be asked to wear a face covering, especially in an indoor setting.
Digital engagement with culture and heritage will also become more of a common feature. This is a new experience for everyone. And requires patience and understanding.
As Ireland opens its doors again please try to support local booksellers, walking tours, heritage groups – all those who continue to bring our history to you through their work.
If you are living in or visiting Dublin the *1916 Walking Tour* is back on the streets.
In Belfast the *Historical Belfast Walking Tours* are also available for booking.
The excellent Trasna na Tíre lectures continue online, covering topics from ancient to modern Ireland.
In their own words:
During the COVID19 pandemic a group of history enthusiasts decided they wanted to continue attending their favourite History lectures while observing best practice social distancing.  And so Trasna na Tíre was born… Every evening Trasna na Tíre brings you a wonderful lecture delivered by Irish historians and enthusiasts, all in the comfort of your own home! We record our lectures and they will be available for you to view at any time through our site!
All available on their *website*
As always, if you would like to inform us of any suitable material – anything related to the Decade of Centenaries – please feel free to email 
[email protected]
.
Sadly no physical Festival this year, but a digital (mini) Festival will be free-to-view on the WCHF website from tomorrow, Saturday 8 August.
The aim is to provide some of the elements that would have been part of the physical festival, based around two themes – the events of 1920 in Cork and Ireland & Empire.
All of these are pre-recorded and no log-in is required – click www.westcorkhistoryfestival.org to go to the home page.
On the theme of 1920 in Cork:
Dr Eve Morrison of St Catherine's College Oxford on the Kilmichael Ambush, about which she is writing a new book to be published in November. In her talk, Eve discusses the interviews on which historian Peter Hart based his important, if controversial work, on the subject.
Professor Brian Walker of Queen's University Belfast on inter-connected violence in Cork and Ulster in 1920 touching on, among others, the connected murders of Tomás Mac Curtain and Oswald Swanzy
West Cork-based historian Kieran Doyle in conversation with Festival co-founder Simon Kingston about Kieran's project to map memorials of the Revolutionary Period across the county of Cork
A short film about the burning of Cork, commissioned by St Peter's in Cork city which is currently hosting an exhibition on the burning.
The Festival is collaborating with St Peter's and Nano Nagle Place, also in Cork City, through August to host and highlight content on #Cork1920.
Watch out for upcoming virtual programming and an on site exhibition at Nano Nagle Place exploring everyday life in Cork in 1920, launching at the end of August.
In addition there is a specially-commissioned History Ireland Hedge School podcast [available *here*] on Ireland, Empire and the Sea, chaired by History Ireland's editor Tommy Graham. The panel includes Lar Joye of the Dublin Port Authority – which is sponsoring the Hedge School – alongside Dr Aoife Bhreatnach, Professor Claire Connolly from UCC and Dr David Murphy from Maynooth.
The theme of Ireland & Empire is something they hope to develop further at our 2021 Festival.
Historian and writer Turtle Bunbury in conversation with Simon about Turtle's book Ireland's Forgotten Past: A History of the Overlooked and Disremembered.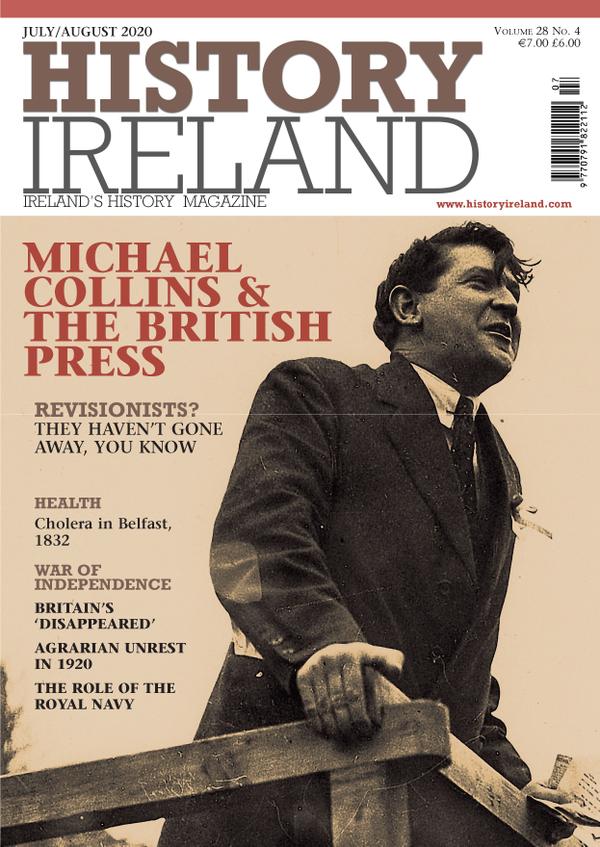 The new 
History Ireland
issue is now available online to subscribers and will be in the shops now.
The magazine includes the following articles:
WAR OF INDEPENDENCE I: The agrarian movement of 1920 by 
Terry Dunne
WAR OF INDEPENDENCE II: Michael Collins and the British press by Alison Martin
WAR OF INDEPENDENCE III: Britain's 'disappeared' by 
Pádraig Óg Ó Ruairc
WAR OF INDEPENDENCE IV: The Royal Navy in the War of Independence by Daire Brunicardi
To subscribe to receive a digital edition of the History
Ireland magazine every month, click *
here
* to see the available options.
This also gives full access to the archive of articles.
There is also a single subscription offer at the moment –
for €5 you can receive a digital/physical edition of the
current issue.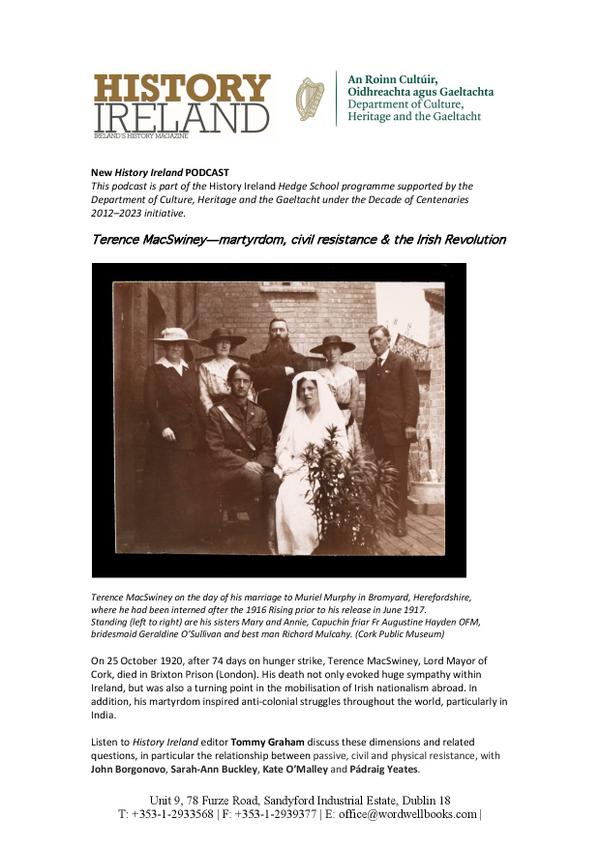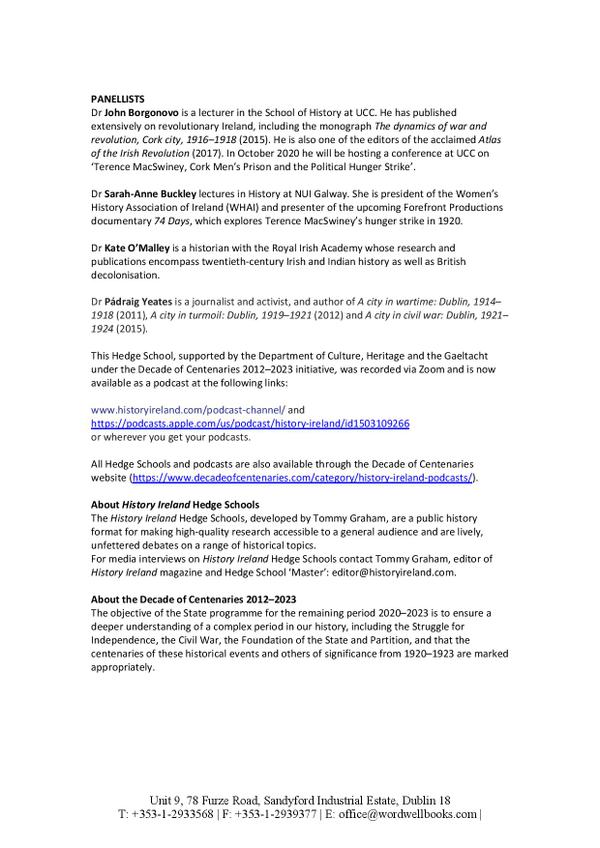 Although History Ireland has been unable to hold its 'Hedge Schools'
in person, the discussions continue – and are recorded as podcasts.
The two most recent are listed here.
The first (see description and participants above) is Terence MacSwiney: martyrdom, civil resistance and the Irish Revolution.
The second (see description and participants below) is Ireland, Empire & the sea.
Both these podcasts (and previous Hedge Schools) are available on
several streaming platforms, such as Spotify and Apple Podcasts.
For the Spotify link see
*here*