September 2020
For the foreseeable future due to continuing social distancing requirements the way we engage with our physical heritage and culture will be different – visitor numbers will be controlled – queuing will be required – you will be asked to wear a face covering, especially in an indoor setting.
Digital engagement with culture and heritage will also become more of a common feature. This is a new experience for everyone.
And requires patience and understanding.
The Dublin History Festival has moved online – details below – as are several excellent new online exhibitions.
If you are looking for Decade of Centenary events in your local area this year, the Decade of Centenaries website lists the new plans local authorities around Ireland have been putting together in light of changed circumstances.
As Ireland opens its doors again please try to support local booksellers, walking tours, heritage groups – all those who continue to bring our history to you through their work.
As always, if you would like to inform us of any suitable material – anything related to the Decade of Centenaries – please feel free to email [email protected].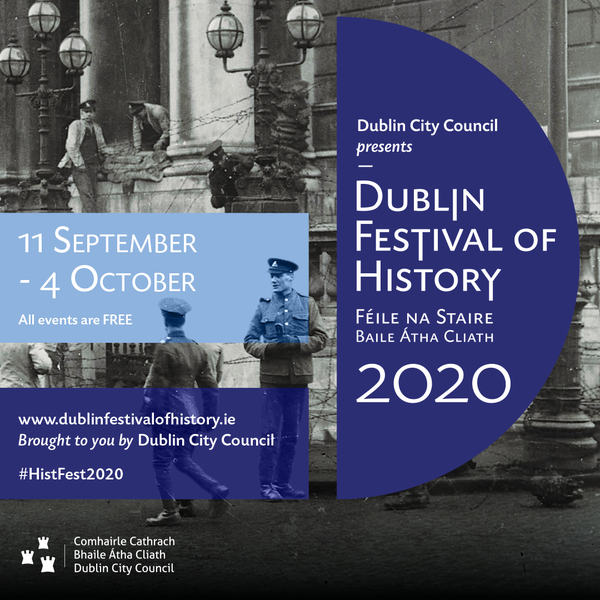 The Dublin Festival of History
11th Sept – 4th Oct 2020
This year the Festival has moved online, but continues to offer a diverse programme of events.
Here is a small sample of talks:
with Mary Muldowney, Historian-in-Residence
Online: 11/09/2020 at 7:00pm (booking required)
The Irish Manuscripts Commission and the writing of Irish History
Online: 11/09/2020 at 1:30pm (booking not required)
with Mary Muldowney, Historian-in-Residence
Online: 13/09/2020 at 7:00pm (booking required)
Anne Dolan and William Murphy in conversation with Mark Duncan
Online: 15/09/2020 at 7:00pm (booking required)
Online: 16/09/2020 at 7:00pm (booking required)
With Cormac Moore, Historian-in-Residence
Online: 20/09/2020 at 6:00pm (booking required)
Ida Milne in conversation with Sarah-Anne Buckley
Online: 23/09/2020 at 7:00pm (booking required)
Events are free as always but some talks require pre-booking so make sure to check in advance.
The full programme can be accessed *here*.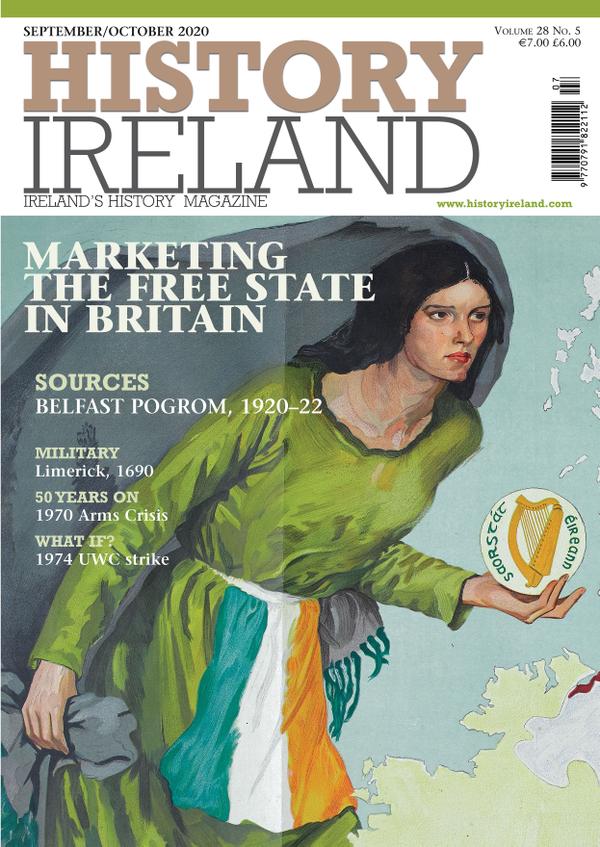 The new History Ireland issue is now available online to subscribers and in newsagents/bookshops.
To subscribe to receive a digital edition of the History Ireland magazine every month, click *here* to see the available options.
This also gives full access to the archive of articles.
There is also a single subscription offer at the moment – for €5 you can receive a digital/physical edition of the current issue.
The current issue includes several articles which cover the Decade of Centenaries timespan, including:
—a review of the Virtual Tour of the Pop Up Women's Museum, curated by Dr Sineád McCoole, ​​​available to view on the Decade of Centenaries website, *here*..
—two articles about Terence MacSwiney (also see podcast below)
—The Swanzy Riots of 1920 in Lisburn and their connection to the murder of Tomás MacCurtain in Cork (see piece about a new exhibition in Lisburn below).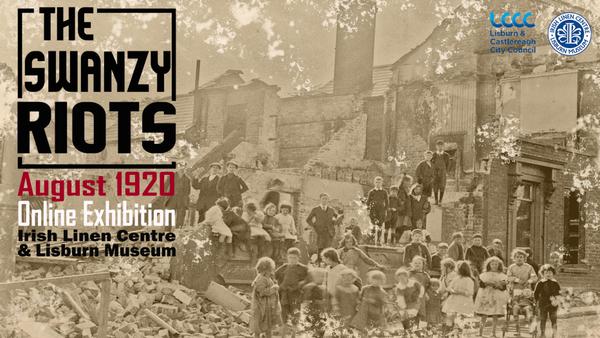 Exhibition: The Swanzy Riots, 1920
The Irish Linen Centre and Lisburn Museum introduce their excellent new online exhibition:
This exhibition explores one of the most difficult episodes in Lisburn's recent past: the Swanzy Riots of August 1920.
The assassination of R.I.C. District Inspector Swanzy on a quiet, sunny Sunday in Lisburn led to days of vicious looting and rioting, forcing many of the town's Catholics to flee. While a significant, but not well known, event in Lisburn's rich history, the Riots are part of the wider story of the War of Independence (1919-1922) on the island of Ireland.
This exhibition features, for the first time, a database of 300+ compensation claims relating to the Riots, and an interactive map developed in conjunction with local historians, Pearse Lawlor and Pat Geary, and Charlie Roche (University College Cork/Atlas of the Irish Revolution).
Follow the link *here*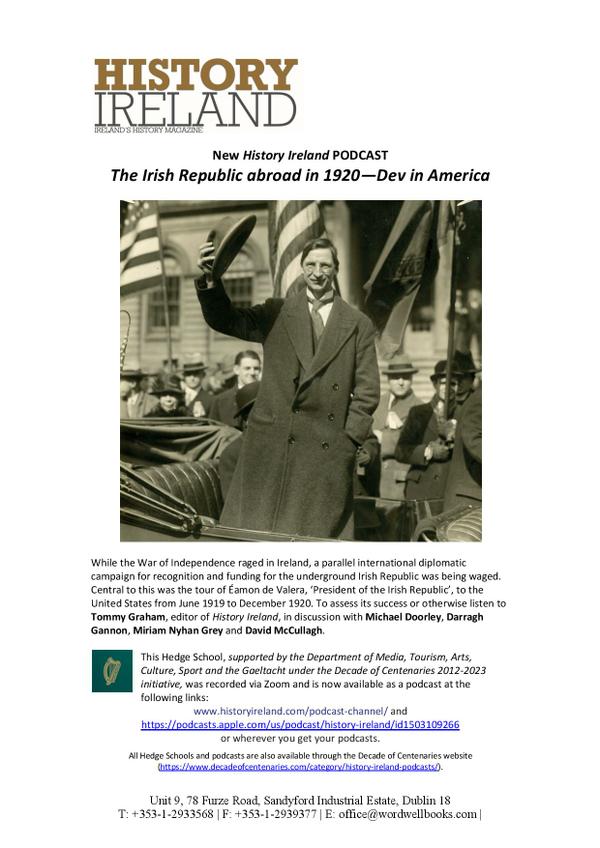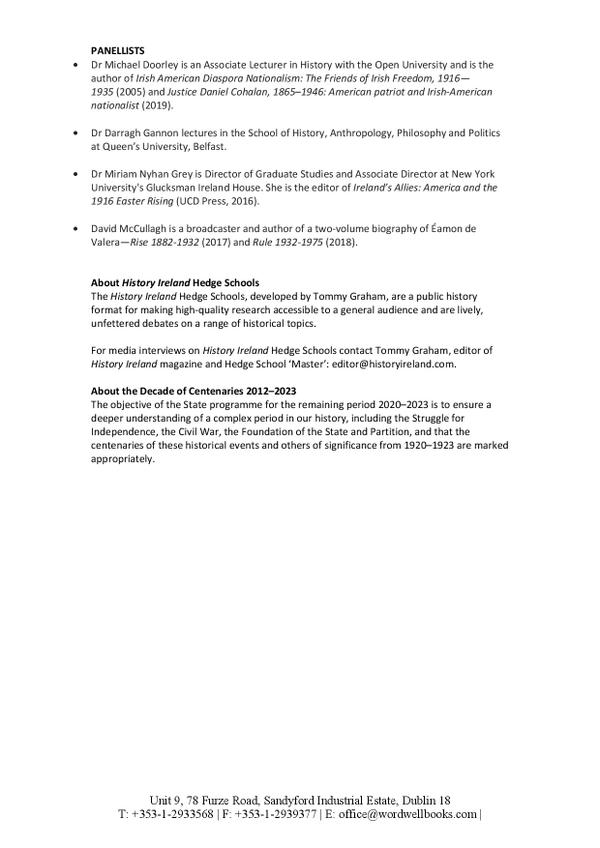 The Irish Republic abroad in 1920
Dev in America
While the War of Independence raged in Ireland, a parallel international diplomatic campaign for recognition and funding for the underground Irish Republic was being waged.
Central to this was the tour of Éamon de Valera, 'President of the Irish Republic', to the United States from June 1919 to December 1920.

To assess its success or otherwise listen to Tommy Graham, editor of History Ireland, in discussion with Michael Doorley, Darragh Gannon, Miriam Nyhan Grey, and David McCullagh.

Available on Spotify *here*
On the History Ireland wesbite *here*